Three Harbors Council
Three Harbors Council serves more than 25,000 youth in Cub Scouting, Boy Scouting, Venturing and other Scouting programs in the southeastern Wisconsin counties of Kenosha, Milwaukee and Racine.
---
Register for Summer Camp!
Calling all Scouts, leaders and parents! If you haven't registered for summer camp yet, the time is NOW! You won't want to miss what's in store at our Scout camps this summer!
Boy Scout Camps: LeFeber Northwoods Camps and Robert S. Lyle Scout Reservation
Over 50 merit badges to choose from!
New and exciting program features!
High adventure treks for older Scouts!
Cub Scout Camps: Camp Oh-Da-Ko-Ta and Indian Mound Scout Reservation
Day Camps: Four-Day sessions with one special One-Day session!
Weekend Camps: Open to ALL FAMILY MEMBERS!
Resident Camp: New this year, Wolf and Bear Scouts are invited to attend with the Webelos!
For more information about our great summer camp offerings, please visit our camping website at www.ThreeHarborsScouting.org/Camping!
---
New Cub Scout Program Dinner
All registered Cub Scout leaders are invited to attend a free dinner at Camp Oh-Da-Ko-Ta on June 30, 2015.
The program will give an overview of the new Cub Scout Program along with a detailed look at the advancement changes.
This dinner and program is open to all Scout and district leaders also.
Preregistered Cub Scout Leaders will be free. All other preregistered visitors will be $5.00. Pay-at-the-door will be $8.00.
Please register by June 23, 2015.
---
Robert S. Lyle Scout Reservation History Book
The Robert S. Lyle Legacy Committee is looking for your help. To honor the memory of Camp Lyle, the committee is putting together a book chronicling camp's five decades of Scouting experiences. The group has begun to piece together the history of camp, and they want to hear from everybody who had memorable experiences at camp, including camp staff, Scouts who attended camp, and adult leaders. If you have information that you think belongs in the book, send it to them.
Click here for more information.
---
Northwoods Camps Historical Celebrations
Don't miss out on our 2015 historical celebrations at our Northwoods Boy Scout Camps!
Celebrate 52 years at Robert S. Lyle Scout Reservation and 85 years at LeFeber Northwoods Camps!
Individuals are able to attend camp Thursdays through Saturdays while camps are in session.
Come to enjoy the properties and join us for our Friday night campfire celebration!
The cost for attending is $50.00. Payments are due to the Milwaukee Scout Service Center by 5:00 p.m. on the Thursday BEFORE you plan to attend camp.
---
Upcoming Events
Cub Scout Program Dinner - Camp Oh-Da-Ko-Ta
Scouting Alumni Night with the Kenosha Kingfish
Brewers Scout Night
Wood Badge Adult Leader Training
Northern Camps Updates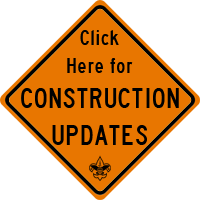 CONSTRUCTION UPDATE-Milwaukee Scout Service Center
84th Street in front of the Milwaukee Scout Service Center remains under construction.
UPDATE: 4/21/15
Click Here for more details.