The Kenosha Scout Shop will be closed on:
December 23, 2021
Please plan ahead.
You may now place orders online for pick up or shipping (extra fee for shipping). Payment would be at time of pick up or by credit card in advance.
Please call 262-632-1655 ext. 1111 for card payments.
Click on the box below to begin an order.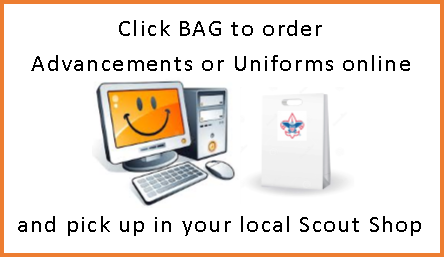 Please note some items are not in stock in the Kenosha Scout Shop. If you order an item not stocked, please allow at least 2 weeks for availability.
The Kenosha Scout Shop doesn't offer sewing services and is not open on Saturdays.
---
A more convenient building entrance located beside the Kenosha Scout Shop has been implemented. The new entrance can be accessed directly from the bank's parking lot on the west side of the building. Customers will need to press the door buzzer to request access through the exterior door into the hallway where the Scout Shop is located. Due to security reasons, customers will no longer be able to access the Scout Shop through the main lobby of the Johnson Bank building.
---
In-Store Shopping:
The Kenosha Scout Shop is open to customers.
Hours will be Monday – Friday from 9:30am to 5:00pm

Only one customer (or a family of three) may be in the shop at one time

All customers are required to wear a mask and to clean hands

Credit / Debit card payments are preferred

Curbside service will still be available for orders made in advance (see below)
---
Curbside pickup:
Please email
Gina.Hannemann@Scouting.org
or call Gina
262.632.1655
ext.
1111
with your detailed list of items you would like to purchase.
Be specific, include:
Items needed

Quantity needed

If you are ordering ranks, belt loops, Webelos/Arrow of Light pins and merit badges, let me know if you would like the pocket certificate cards and how many of each.
All ranks and merit badges require an advancement report and must be included with your emailed order. If you use Scoutbook, it will generate this report for you. Otherwise, you can find an advancement report
here
.
All purchases must be made by calling Gina with a credit or debit card number. You may also use your unit account if there are funds available. Funds can be added to the unit account using a credit or debit card.
Orders can be placed at any time via email. An effort will be made to fill orders received by 2:00 pm (Monday-Friday) for pickup before the end of the day if the items are in stock.
Hours of curbside pickup are 10:00 am to 4:30 pm Monday to Friday by the door on the West side parking lot of Johnson Bank. Please call 262-632-1655 ext. 1111 when you arrive, and I will set your items right outside the door for you to pick up. Items will not be placed outside unless you call me and are in the parking lot. Items will not be left unattended.

Kenosha Scout Shop
7500 Green Bay Road
Suite LL101
Kenosha, WI 53142
(lower level
Johnson Bank building)
Corner of Hwy 31 & Hwy 50
---
PHONE: 262-632-1655

---
HOURS:
Mon-Fri: 9:30 a.m. - 5:00 p.m.
Saturdays: Closed
Sundays: Closed
---
Field Service/
Scout Shop Associate:

The Kenosha Scout Shop is for use by Scout families, volunteer leaders and Council staff, so that they may deliver the best Scouting program possible.

Please add Gina.Hannemann@Scouting.org to your address book to ensure your emails reach us.

Make sure the items you're buying are Official Boy Scouts of America products purchased from BSA Supply or Officially Licensed products purchased from BSA Official Licensees. To find out more please visit www.bsalicensing.org.