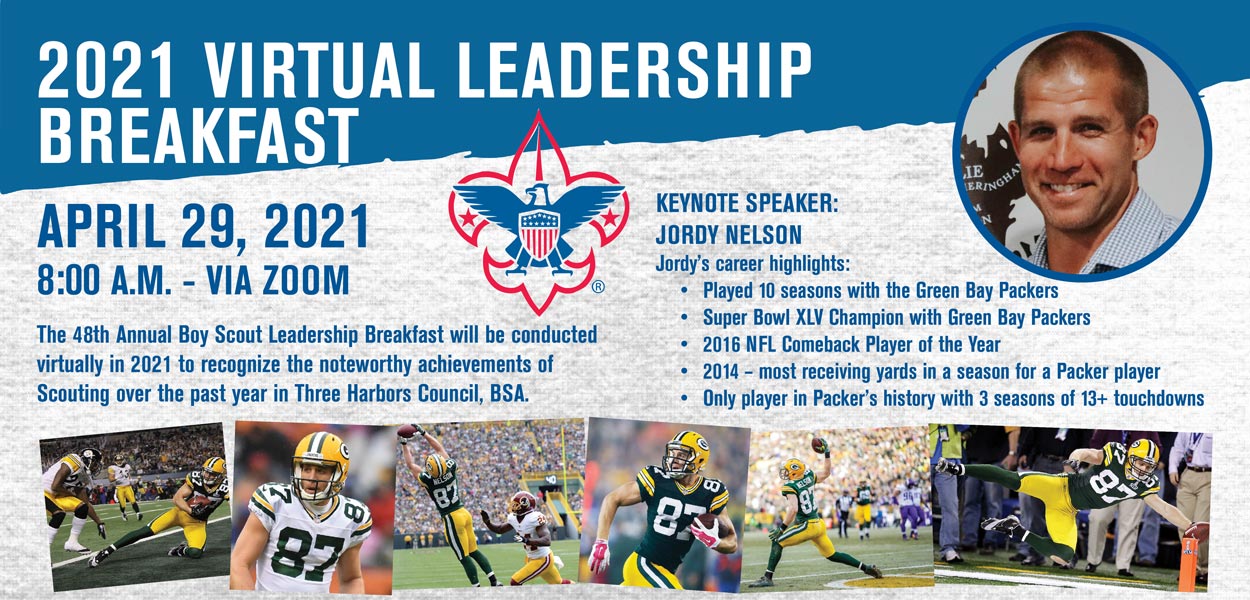 ---

Keynote Speaker: Jordy Nelson

Green Bay Packer - #87

In 100 seasons for the Green Bay Packers franchise, no one has had more receiving yards than Jordy Nelson in 2014 with 1,519 yards. Nelson earned NFL Comeback Player of the Year as a Packer in 2016. In 10 seasons with the Packers, Nelson ranks No. 3 in franchise history in receptions (550), No. 5 in receiving yards (7,848), No. 2 in touchdown receptions (69) and No. 3 in 100-yard receiving games (25). Nelson is the only player in Green Bay Packers history to record three seasons with 13-plus touchdown receptions (2011, 2014, 2016). Nelson posted at least 1,250-plus receiving yards and 13-plus touchdown catches in the same season three times in his career (2011, 2014, 2016), the fourth-most in NFL history behind Pro Football Hall of Famers Jerry Rice (six), Randy Moss (five) and Terrell Owens (four). Nelson led the Packers with nine receptions for 140 yards and a TD in the Super Bowl XLV victory over the Pittsburgh Steelers. Nelson was just the fourth receiver in Super Bowl history with nine-plus receptions for at least 140 yards and a touchdown.
---
Sponsorship Information

Distinguished Sponsor: $10,000

Special Acknowledgement During Program

Full Page Tribute Ad in Event Program

Benefactor Sponsor: $5,000

Golden Eagle Sponsor: $2,750

There will be a group solicitation during the program and individuals who attend are asked to consider a contribution to Scouting at the $500 level and above, though any gift will be graciously accepted.

For more information, contact Leah Rife (414) 443-2872 or

Leah.Rife@Scouting.org

.
---
You Can Make a Difference
The Boy Scouts of America offers the finest youth development program available
to build leadership, values, life skills, and self-esteem in youth.
Your participation helps bring the character-building programs of Scouting to more
than 8,000 young people and their families in Kenosha, Milwaukee and Racine Counties.
Your support makes programs such as Learning for Life and Multicultural Scouting
possible for kids in central city neighborhoods.