Three Harbors Council
Three Harbors Council serves more than 25,000 youth in Cub Scouting, Boy Scouting, Venturing and other Scouting programs in the southeastern Wisconsin counties of Kenosha, Milwaukee and Racine.
---
New Lion Program
The Three Harbors Council has been approved to participate in the New Lion Program. This program is the first program to join as a Scout as it is designed for kindergarten aged boys. In order to participate in this program, a pack must have someone attend one of the training sessions listed below. Please click on one of the dates to register. In addition, each pack attendin will receive a copy of the parent's guide.
---
Scouting the Zoo
Scouting the Zoo is a one-of-a-kind opportunity to showcase the Scouting program at the Milwaukee County Zoo.
---
Are You Interested in the 2017 Jamboree?
The council is holding an informational session on June 8, 2016 at Wheaton Franciscan Hospital in Franklin at 7:00 p.m. for Scouts who are interested in attending the 2017 National Jamboree.
The council will see if there is enough interest in opening another troop to attend the Jamboree.

In addition, there are a few Venturing slots still open.

This meeting is for Scouts who have not already signed up to attend the Jamboree.
---
Major Construction Detour to Indian Mound
Construction on Highway 67 at I-94 in Oconomowoc, along with I-94 bridge work at Dousman Road near Indian Mound Scout Reservation, will require anyone heading to camp to take a detour.
As of May 16, 2016, the I-94 westbound off-ramp to Highway 67 (Exit 282) is closed. In addition, Dousman Road is closed unter the freeway bridge. This means that the southerly route to camp (past the Roundy's distribution center) is closed. All visitors to camp must use the northerly route (past the Target distribution center).
The official detour routes are as follows:
Take I-94 West to Exit 283/Highway P/Sawyer Road
Use the roundabouts to take Highway P south (under the freeway bridge)
Turn west onto Highway DR/Delafield Road
Turn north onto Highway 67/Summit Avenue
Turn west onto Highway B/Valley Road
Turn south onto Dousman Road (you will see signs that say "Road Closed to Thru Traffic" but you can still get to camp)
Turn west onto Forest Drive and follow until you reach the entrance of camp.
The Highway 67 exit ramp is expected to reopen in mid to late June.
---
Upcoming Events
Venturing Rendezvous
Scout Service Centers Closed for Memorial Day
May 28-30, 2016
Cub Scout Resident Camp Informational Meeting
Scouting the Zoo
2017 Jamboree Rally #2
Lion Pilot Program Training
Lion Pilot Program Training
Lion Pilot Program Training
STEM Tech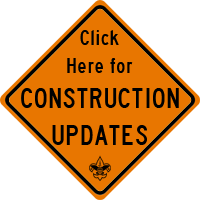 Updated: April 26
Indian Mound
Scout Reservation